He hoped to one day be the manager at a fast-food restaurant, but Timothy Woodiwiss ended up using his community-college degree as a springboard to something much more ambitious: medical school.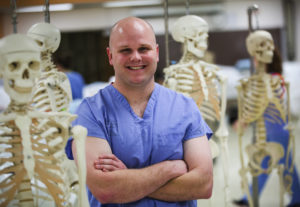 When Timothy Woodiwiss dropped out of high school in ninth grade, his biggest ambition was to manage the Ritzville McDonald's.
At 18, he joined the Washington Army National Guard and, after working in New Orleans after Hurricane Katrina, decided he wanted to do something bigger with his life than serving Big Macs and French fries.
So he enrolled in community college, where he started in remedial math — basic algebra.
 
Over the next nine years, he cycled through a half-dozen majors and career ideas, from firefighter to accountant to veterinarian.
His studies were interrupted by two military deployments, but he always returned to college. He also got married, started a family and worked full time, but stayed in college.
Woodiwiss could have let his career be sidelined by any one of these events, but he never gave up.
"I failed so many times in my life," said Woodiwiss, who has a shaved head and a gentle, boyish face. "At one point I got fired from McDonald's." He got a D in organic chemistry the first time he took the class — a failing grade. Over and over, he said, "I felt like a miserable failure."
Yet today at 29, he is a first-year medical student at the University of Washington, after graduating with honors last year from Washington State University with a bachelor's of science in biochemistry, and minors in microbiology and animal science.
And last month, Woodiwiss was one of 34 students honored by the State Board for Community and Technical Colleges for using a two-year college education as a springboard to a new life.
All those students embody tenacity and grit. Many were high-school dropouts. Some overcame poverty, drug addiction and homelessness, fled abusive parents, joined gangs, attempted suicide, went to prison for breaking the law.
Some were raised by alcoholics and junkies. A few managed to keep going to school despite physical disabilities. Many attended college while working and raising children on their own.
"You just read these and you cry, you cry, literally," said Joanne Schwartz, a trustee for Centralia College, who has been helping select the award winners for the last five years. "Because you can't help it. You're so overcome with people's desires to do better, to get beyond all the obstacles."
More in Education
Early takers say new SAT 'wasn't so bad' and not so tricky
Lawyer: Motives of Ukrainian student impostor were 'pure'
University of Phoenix's parent company laying off 76 Seattle workers
UW police: Man allegedly sexually assaulted student in residence hall
Bill on sexually explicit books gets final OK in Virginia
What might it cost to keep expelled students out of prison pipeline? $1.8 million a year
Personal character and resilience play a key role, as they have in Woodiwiss' case. But the students who succeed almost always found a helping hand as well, Schwartz said.
That person might be a teacher, a counselor, sometimes even a fellow student. "They discovered someone who really cares about them," Schwartz said.
Starting small
 
Big Bend Community College in Moses Lake was Woodiwiss' springboard to college. But when he first enrolled, he feared that if he asked a stupid question, he'd be discovered for what he was — a high-school dropout.
"I was really terrified," he said. "I was scared I wasn't smart enough. I felt like I was missing this foundational knowledge … and someone like me shouldn't be there."
He'd grown up in the small Eastern Washington town of Lind, the sixth of 12 children. His father was a postal worker, his mot her a stay-at-home mom, and neither had attended college. In high school, Woodiwiss didn't see much point in going to college, either.
He dropped out at 16 and put in long hours at McDonald's, working his way from a member of the crew to shift manager. Woodiwiss took the GED test at Big Bend so he could work full time during school hours. Because he couldn't afford the gas to drive to Moses Lake — 41 miles away — for prep classes, he took the test anyway, and passed.
Shortly after his 18th birthday, Woodiwiss joined the Washington Army National Guard and soon was sent to New Orleans after Hurricane Katrina, where he witnessed the anguish of people who had lost everything in the storm. When he returned to Washington, his aspirations had changed beyond McDonald's, and he moved to Moses Lake and enrolled at Big Bend.
There he met Barbara Whitney, a math instructor who treated every question with patience, without ever making a student feel inferior for not grasping a math concept. "She was so kind," he recalled.
Whitney still teaches at Big Bend, and she still treats every student equally, regardless of how much — or how little — they understand algebra.
"That's important," said Whitney, a 27-year veteran of the community-college system. "They pay good money, and they're here to learn. There's a saying: The only question that's stupid is the one you don't ask."
Whitney remembers Woodiwiss as a quiet, reserved student who sat in the front of the classroom. "He didn't have a lot of family support, but he had a lot of drive," she said.
Woodiwiss was influenced by other teachers, too — an English composition teacher who encouraged his writing, and a history teacher who gave him his first A, on a paper about the history of the Balkans.
"I thought my ideas were so small, but my history teacher loved it," Woodiwiss said.
Looking back, Woodiwiss thinks his insatiable appetite for reading as a teenager helped get him through the first quarters of college. He learned discipline in the military, and his faith played an important role in what he's achieved. But community college was pivotal.
"Without community college, I never would have had a chance to go to university," he said. "It was the perfect setup for someone like me."
Ready for a challenge
When Woodiwiss transferred from Big Bend to WSU in 2008, he had a 3.5 GPA. He no longer waited until the last minute to complete assignments or study for a test. He'd learned how to be a better student.
But the sprawling Pullman campus, so much larger and more intimidating than Big Bend, was a tough transition. "I really struggled," he said.
He failed his first biology test but did better on the second. On the last exam of the semester, he earned an A.
Woodiwiss was called up for active duty in 2009 and left Pullman for a year to drive supply trucks to and from U.S. military bases in Iraq, where every mission was haunted by the fear an improvised explosive device would detonate under the truck.
But deployment also gave him a chance to think about how lucky he was — how much more opportunity he had, as an American, than Iraqis stuck in a perpetual war zone.
His education was put on hold a second time when he volunteered for active duty and was assigned to serve in Bahrain, a month after he married his wife, Jessica. When he returned to Pullman, "I really wanted to challenge myself, to finally overcome my fears," Woodiwiss said.
He had planned to become a veterinarian but began thinking about becoming a doctor after watching the movie "Gifted Hands," about the surgeon (and current presidential candidate) Ben Carson. Later, he read the Pulitzer-winning nonfiction book about the history of cancer, "The Emperor of All Maladies," by Siddhartha Mukherjee.
"After reading that book, I was hooked," he said. "I was enthralled with the ability of a physician to touch the life of another human being and help them through the most difficult time of their life."
After graduating magna cum laude from WSU, and being inducted into the Phi Beta Kappa honor society, he spent thousands on a preparatory class for the Medical College Admission Test, or MCAT, while he and his wife cared for daughter Isabella, now 2.
He was accepted to three medical schools, including the UW, which became his top pick.
To succeed in school requires a thousand steps, Woodiwiss said. "You take one step at a time. You never realize how it all added up."
Whitney, the Big Bend math teacher, said Woodiwiss gave a speech at the college recently and talked about how he sat in his car in the parking lot on the first day, summoning the courage to walk into a class, fearing he'd be labeled the stupidest student on campus.
"He was ready for failure the first day," she said. "But with a little bit of encouragement …
"Oh, man, he's going to go so far."