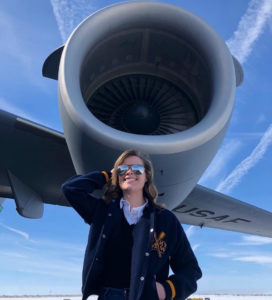 by Melea Johnson, VENUE Magazine
One year ago, on May 18, an energetic group of Big Bend Community College students was happily washing cars to raise funds for the aviation program enrolled in. Their cheerful faces and outward enthusiasm drew drivers in whether they needed their car washed or not. I was one of them. Turns out I not only left with a well-washed car but also with a bright outlook to never lose focus on a dream. You see, one of the students caught my curiosity and for whatever reason, I wanted to know why she was in the aviation program? With a countenance of complete confidence, she affirmed, "I am going to be a pilot for Alaska Airlines." In just the way she expressed the desire to reach that goal I knew without a doubt she will be. And a good one. 
VENUE Magazine interviews Dani Dunlap 
How young were you when you knew you wanted to fly?
I was a sophomore in high school when the idea of flying was first brought to my attention. An adviser at my school had asked if I had ever thought about aviation as a career option, he had a friend who worked for Alaska Airlines as a Captain and thought it would be something that would fit my personality. At the time I was struggling with what I wanted to do in life and the idea of becoming a pilot was never something that I had ever considered since I was very scared of heights. Regardless of my fear, my curiosity led me to look into the possibility of perusing aviation through research and talking to my grandpa who was a Navy pilot. 
On a whim one day I decided to schedule a flight lesson to decide once and for all if it was a career I should seriously consider or if I was going to continue searching. I met my instructor for the first time, this was at Regal Air in Paine Field (Everett, WA), he was this really tall, goofy guy that I wasn't even sure would fit in the small Cessna 152. As we were taxiing the plane to the end of the runway, I was extremely nervous; nervous that I wouldn't like it, that my fears would take over me. Before I could even consider changing my mind my instructor pushed in the throttle and we took off down the runway. When I eventually looked out the window, I saw beautiful dusk painted clouds with streaks running through them when I discovered, I wasn't scared. We were 4500 feet up, but I wasn't scared. It seemed like I could conquer the world; my fears becoming completely irrelevant as I realized I just had to do this with my life. 
To read the full interview, visit the VENUE Magazine website HERE!