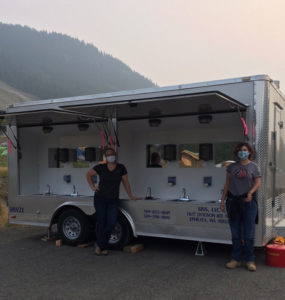 MOSES LAKE — A lot goes into fighting wildfires each summer, between the firefighters on the front lines and those working behind the scenes at fire camp to support them. Here in Washington, firefighters have been dispatched to more than a dozen wildfires over the last few weeks according to the State Department of Natural Resources, and behind them, support personnel to provide them with food and water, shower facilities and other necessities.
Two of those support personnel are Big Bend Community College employee Sarah Schutt and alum Jess Munter.
Schutt, through her business SISS, LLC., provides handwash and shower trailers and potable water trucks for fire camps around the state. She runs the business with her father and sister. Together, they've been supporting firefighters for 14 years.
Schutt is the current BBCC Student Activities Program Assistant and a Big Bend alum herself. Besides earning her Associate's degree from Big Bend, Schutt also went through the college's CDL (Commercial Driver's License) Training Program so she could drive trucks for the business.
Munter joined their crew in 2018.
"I was getting ready to move to Bellingham and looking for a job when Sarah offered me this gig (during one of) our Jiu Jitsu classes. It was so much fun, I decided to continue with it this season," said Munter.
The pair are currently set up with a handwash trailer near the White Pass Ski Resort to support firefighters responding to the Cold Creek Fire, which was discovered just a few days ago and is estimated at 96 acres. Before this, Munter was working at a fire camp near Spokane.
Having a handwash trailer on site means firefighters have an opportunity to do things like wash their hands, brush their teeth and clean up before they start and end their day.
Schutt said for this particular fire, Munter will be manning the trailer.
"Jess will stay in a tent, get up before the firefighters and keep the equipment running until most of them have gone to bed," said Schutt. She added that this means Munter will likely be up around 4:30 a.m. and won't finish until around 10 p.m.
Munter will spend each day cleaning the sinks after each use, coordinating fresh water fills, emptying out the dirty water, checking chlorine levels, keeping the generator and on-demand hot water running and keeping track of other general supplies.
"It's long days, but it's extremely rewarding work," said Schutt. "You get to meet awesome people from all over the country at each fire."
Munter echoed those sentiments, explaining that getting to interact with so many different people at each fire is actually one of her favorite parts of the job.  
"I love meeting new people and making friends," she said.